Dry Falls Panorama 5.75" x 28"
Non-Laminated = $18.00
or Laminated = $21.00
Dry Falls, a receding waterfall during the Missoula Flood was 10 times more powerful than all the rivers of the world combined when it was flowing.
Dry Falls - Non-Laminated
Dry Falls - Laminated
Palouse Falls Panorama 5.75" x 19"
Non-Laminated = $16.00 or Laminated = $19.00
A dramatic waterfall in the dry scablands of Washington state.
The canyon was cut by the floods and now only a remnant
waterfall remains in stark beauty,
Palouse Falls - Non-Laminated Palouse Falls - Laminated
Lake Missoula Flood Path
Print & Map - $17.00
This 11"x17" print captures a glimpse of the immensity of this great event with seven color panorama photographs that highlight some of the most significant sights from Montana, Idaho, Washington and Oregon. Also included on a separate insertion is a map of the path, indicating where each photo was taken, a brief story of the flood and a thumbnail of each photo with detailed information about that site.
This interpretive and educational print for all ages is excellent for gift shops, schools, science and geology classes or clubs. Each 11"x17"print also comes with protective plastic sleeve ready for peg hanging. Contact us at info@Gigaflood.com for wholesale quantity and pricing.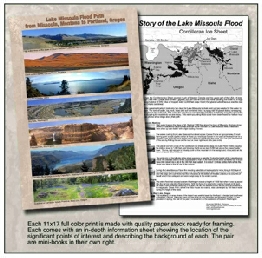 Home
Store 1
Store 3
Lake Missoula Flood Path in Panorama 16" x 24" - $24.00
Six panorama photographs showing the path of the Lake Missoula Flood as it tore across four states.
Mt. Sentinel in Missoula, Montana; Camas Prairie, Montana; Dry Falls and Palouse Falls in Washington; Columbia River Gorge; and Camassia Nature Preserve in West Linn, Oregon; the only scabland west of the Cascades. This beautiful glossy photo-paper series of panorama photographs is not only a treasure for those interested in the Missoula Flood but also a wonderful visual aid for those teaching about the flood.
Dry Falls - Non-Laminated
Dry Falls - Laminated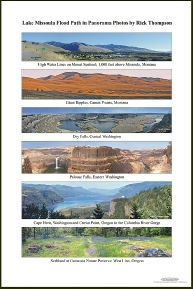 Tualatin/Sherwood Ice Age History: Mega-floods &
Mega-fauna Driving Guide - $6.00
A half-day tour of Tualatin/Sherwood in Oregon. Highlights include: Tonquin flood channels, Sherwood flood channel, Nyberg Creek Greenway flood channel, Koller wetlands and other kolk lakes and giant current ripples. A mastodon skeleton, tusk and molar as well as an ice age sloth vertebrate and other mega-fauna bones are seen at featured stops.